Leading Auto Brands Shifting Gears On Video Performance With Interactive
WIREWAX
October 30th, 2019
For too long now the automotive marketing sequence has been inclusive of a smooth, elegant visual, a call to get in touch, a point to test drive, and an opportunity to buy, all existing separately with an expectation of the consumer to seek them out.
The outcome? A hefty focus on ROI with no real road to measurement or optimisation.
Some of the biggest brands are realising that this model is one that relies too much on the proactivity of the consumer rather than the elegance of the experience for a shortened path to purchase and that in a modern world driven by connection, this model is fast becoming outdated.
As sighted in The Washington Post by R/GA's Sascha Martin, brands are casting their gaze away from traditional points of consumer engagement "saying that they needed to find new innovative ways to connect with customers."
"Big brands are realising that this old model is one that relies too much on the proactivity of the consumer rather than the elegance of the experience for a shortened path to purchase"
Martin explores this further, discussing that to be at the forefront of innovation automakers need to begin the process of future-proofing their business by focusing on user experience, making customer-centric innovation a top priority. In fact, OMD a/b tests with AUDI show 3X more time spent on page with WIREWAX interactive video.
It's evident that across the marketplace automakers are pressing their agencies to drive action from video.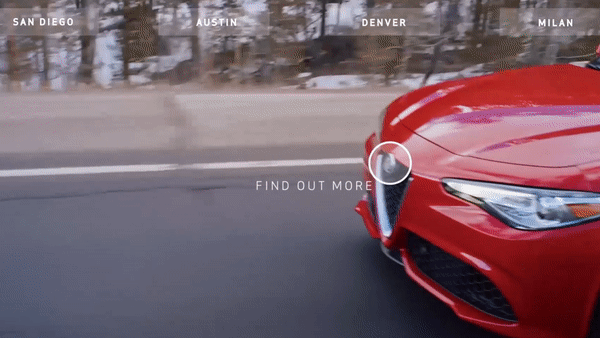 Now, and rightly so, intelligent automotive teams are steadfastly shifting gears toward interactive experiences that hold the essence of their brand while driving connectedness across the entire journey. The shift is about crafting immersive experiences that simplify research, deliver demonstration, and optimise engagement from the get-go.
We've already seen Land Rover take bounding steps toward becoming experience-driven. With WIREWAX, the British luxury vehicle brand created content that drew in 5 interactions per viewer, with over 40% of all viewers taking action during the video.
Jeep too has turned their gaze toward action-driven immersive, creating a WIREWAX-fueled experience that boasted a play rate of 81%, not to mention almost 3 in-video actions per user throughout the content.
In a landscape of connection, the automotive brands succeeding are those who are moving past passive traditional viewing experience into a world two-way consumer dialogues to drive purchase.
With its responsive nature and ability to layer product information, increase upsell potential with optimised feature discoverability, and deliver points of action for impulse reactions in one versatile video, interactive has powerfully established itself as the leading technology solution for innovation-centric automakers serious about growth.
_________________________________________________________________________________
Connect with WIREWAX's automotive experts to discover how you could be crafting bespoke customer-centric interactive experiences for your next campaign.
Written by Rebecca Warger, Marketing Director
TAGS:
automotive
customer experience
WIREWAX interactive video
SHARE: