The Rise Of Shoppable Beyond Fashion Retail
WIREWAX
October 3rd, 2019
It's no secret, savvy brands are winning big with shoppable.
More and more of the biggest social platforms are integrating shoppable experiences. More and more brands are creating content with shoppable in focus. The prolific interactive technology has lit a fire in the bellies of consumers now seeking shorter, more streamlined purchase experiences offering the immediacy of action on impulse- the capability to click as they view, not after.
Shoppable is a strong, robust framework, and it works flawlessly for retail. So how can we take what we know from shoppable and apply it to other areas for similar success?
For starters, we can look at DIY.
The Home Depot most recently dabbled on this extend application as they brought shoppable to the home improvement enthusiasts of the world.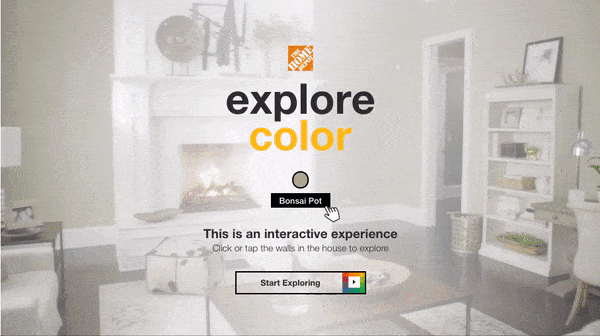 The experience, Exploring Color, was shaped to accelerate the ease of paint purchase while simultaneously applying enhanced technology to take the stress out of color selection once and for all.
For The Home Depot transferring the learnings that shoppable has shown allowed the DIY-giants to condense an otherwise extensive and often exhausting purchase decision into an elegant and engaging shoppable experience. Makes sense, right?
"We have seen that making a video shoppable drives a 9x average increase in purchase intent. When we teamed up with The Home Depot, we knew they would take our technology to the next level. They have pioneered the next generation of product exploration and, through their product-feed integration, have enabled viewers to purchase products swiftly and effectively." – Bea DiCarlo, Vice President of Client Partnerships
In the auto sector, this similar mentality of immediacy can be carried across into test drive booking. Giving the viewer a taste of the experience visually while providing action points in parallel elicit an almost automatic reaction for engagement.
We Make Film Happen explored this when creating their experience for the Porsche Cayenne, nurturing an audience pathway that led from visual exploration to more information to a page for action in less than three clicks. The shortened path a consumer craves paired with a wholistic and memorable brand experience is a simple equation for unleashing success, and one that can be learnt from and adapted a thousand times over.
For travel, we can jump into the same strategy of "show and tell" – show your viewer the experience and tell them how to make the experience a reality immediately.
P&O Cruises began to touch on this a few years ago, setting sail on a unique interactive campaign that allowed users to explore and book travel experiences throughout their video.
Guiding viewers through the narrative, they used video layered with action points to encourage the same 'see it, want it' mentality of the shoppable viewer.
As interative technology has grown, it is now easier than ever to bring these experiences to a wider audience across social channels aplenty.
With a few diverse examples to unpack what shoppable both is and means to audiences, we can paint a clearer picture of how this can mean more for almost any brand in any industry.
It's this understanding of the key customer experience that are leading the biggest brands in the world to turn their focus to interactive with no intention of ever turning back.
TAGS:
auto
home depot
retail
shoppable
travel
SHARE: