The Problem With Video Content
WIREWAX
April 15th, 2020
We're seeing content marketing investments increase steadily as more brands turn their gaze to new formats for audience engagement. This is a trend that is not likely to slow anytime soon.
But there is a bigger problem simmering under the surface with all this content. Specifically, video.
More and more video content is being pummeled out by brands, companies, communicators and advertisers. All this activity, however, is missing a vital key value driver that is costing us further down the performance chain.
Before we get ahead of ourselves, let's get a better understanding of how big this problem is.

In your spare time, how often are you viewing video on a single screen? And when you're on the go, is the video you view part of a scrollable social feed?
How often can you pledge that you are giving 100% of your full focus to the video content you are shown, or can recall it 3-7 days later?

Hubspot found that 78% of people watch online videos every week, and 55% view online videos every day.

Across Youtube, users view more than 1 billion hours of video each day.
By the end of this year, Cisco predicts that there will be close to 1 million minutes of video crossing the internet per second.
These numbers are not only big, but they are ramping up with speed as we as a global community face of the current challenging climate

Our close friends at JW Player have compiled data from across their network, tracking a 40% increase in overall consumption in the last 30 days.

Looking at these numbers we're starting to get a picture that video consumption, globally, is huge. Probably something a lot of us knew already. The problem is that it's not just huge, it's incredibly distracted.

A study by eMarketer showed that an estimated 180.8 million U.S. adults —or 70.1% of the total population — will regularly use another digital device to browse online while watching TV in 2019, up 4.2% from 2017 with a predicted increase to 187.1 million by the end of 2020.

According to a report from CivicScience in March last year, even the most compelling film and TV content couldn't grab the full attention of almost half of US adults.

Once we have this statistic understanding of these behavioural metrics we must ask a key question: What are we doing with our video content that is both capturing the full attention on our viewer, and leaving a lasting impression?

Often, this taken on the form of short-form snappy video. Punchy enough to be consumed quickly.
For us at WIREWAX, observing this landscape has brought to light a large, often overlooked problem that has the potential to leave a huge cost in the long run.
For us, we are looking directly at The Context Problem.
Dive into our experience to understand more.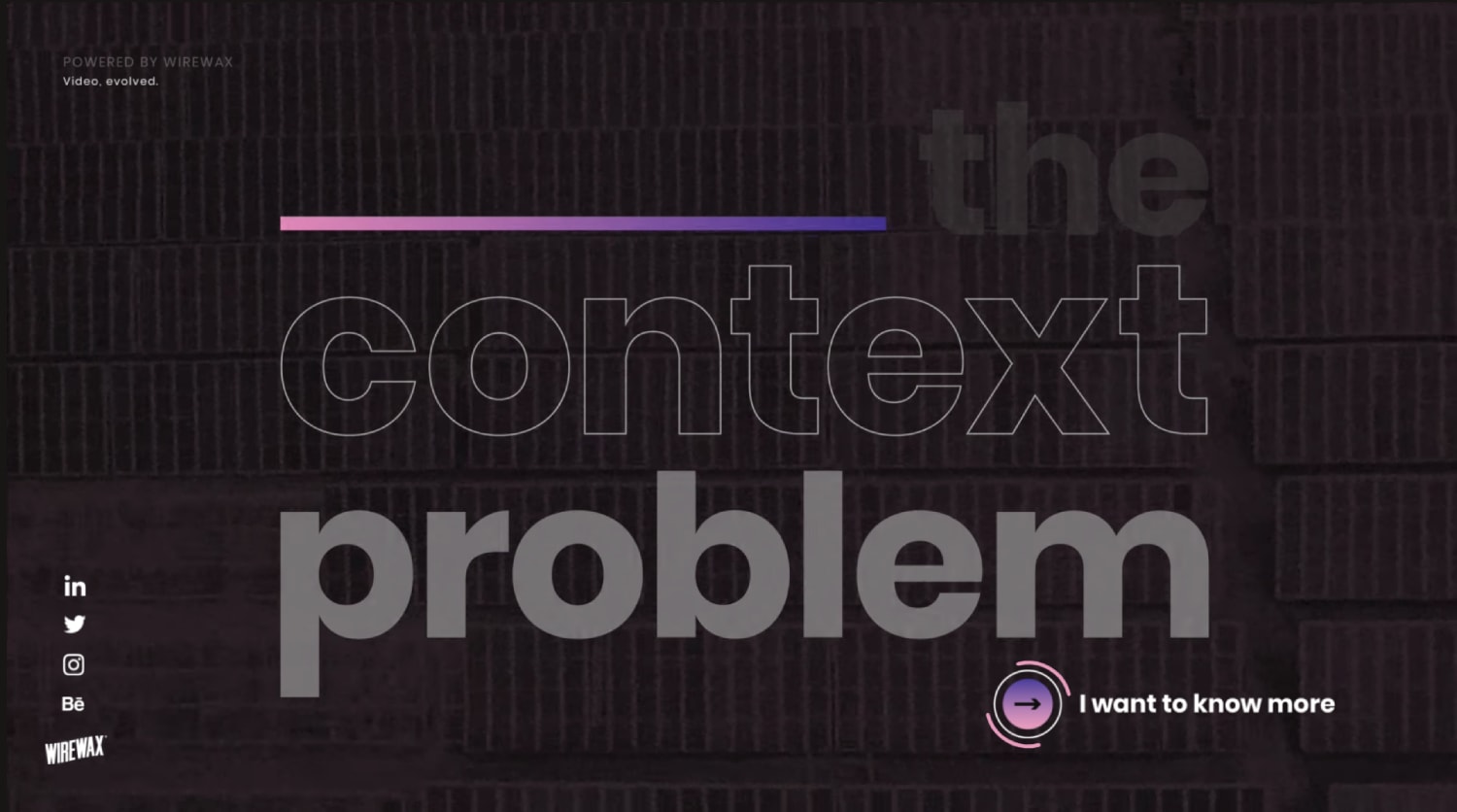 TAGS:
the context problem
video content
SHARE: