[Webinar Recap] Commerce Video 101: How to Convert Your Viewers Into Customers
WIREWAX
March 1st, 2021
We had so much fun talking SHOP 😉 with our production partners at Lemonlight during our 'Commerce Video 101: How to Convert Your Viewers Into Customers' webinar. You can find the full recording here, but we've also included a full recap of the commerce goodness here. ⬇️
What Is Commerce Video?
What better way to convert viewers into shoppers than by bringing the purchase opportunity straight to them as they're watching? With commerce video at the forefront of your monetization strategy, you can shorten the viewer's path to purchase and drive those precious dollars all while maintaining your storytelling techniques. Interactive and commerce video allows the viewer to engage with something they want to buy at the moment that it piques their interest.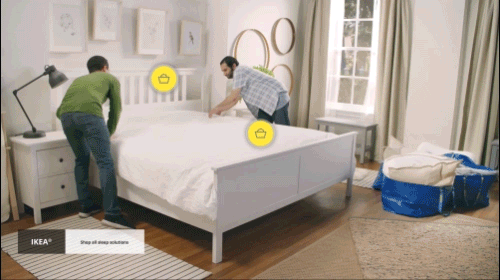 But don't just take our word for it:
Viewers spend 47% longer watching an interactive video compared to a traditional video.
41% of viewers add products to their cart as a result of commerce video.
Commerce video has been proven to increase purchase intent by 9x.
Today's technology enables you to set interactive touch points in any video (or image), allowing your audience to expand on any product. Whether that's finding more information or exploring availability to buy, the choice is yours.
Better still, you can use commerce video anywhere you can embed a video, meaning you can transform any video on your website into a fully integrated retail experience. Stop grappling for customer click-through – it can all happen right there and then in the video.
Commerce video can be used across a wide range of video strategies and implementations.
Commerce Ad Units
Commerce ad units are great for quick consumption and conversion, especially on social platforms. It can be purchased through ad distribution networks, and because it's interactive, it often gives marketers more of a return because it delivers more than just impressions.
If you're creating a video for this type of experience, it's best if the content is short-form, the video is primarily vertical, and you focus on just one (or a few) products.
Commerce Video Experience
Create robust storytelling experiences with shoppability for your most engaged audience. This type of shoppability will appeal to your most loyal audience and performs best when embedded on your site.
If you're creating a video for this type of experience, the content can be short- or mid-form, can support both horizontal (9:16) and vertical (16:9) orientations.
Integrated Commerce Video
The most direct viewer-to-conversion funnel comes when you integrate your commerce video directly into your eCommerce platform, for example whether that's Shopify or a proprietary eCommerce platform. You can connect elements like product and inventory feeds, pricing, and other details directly to the video. You can also connect your on-site cart and can use geo- and language intelligence to serve one main video with optimizations for different audiences.
Production Best Practices for Commerce Content
From our video production partners at Lemonlight:
Many of the best practices for commerce content are similar to those of other product videos, but some are unique. First, you'll want to start with your video goal. This should always be step one in creating video content. A great way to think about this process is by using the marketing funnel (or buyer's journey) to assess which stage you'd like to target with your content. Commerce video is great for the consideration and decision stages.
Next, choose your video style. For commerce content, it's great to show your product in action with a product-focused video or to educate viewers on how to do something, like walking them through how to use your product or walking through a use case. Why do these styles work best? These styles help viewers envision themselves using the product, so the more clearly you can illustrate how your product works and show it in action, the more likely viewers are going to latch on.
When it comes to your camera shots, it's important to focus on 1-2 items in a single shot. Make sure to capture both close-ups and full-frame product shots to mimic the experience a customer would have interacting with the product in person. Make sure to also let your product shots run for at least three seconds; this gives viewers time to understand that there are clickable elements and to react accordingly. It's also best if you place a clickable hotspot within the first few seconds of your interactive video. This aides the viewer experience as it gets viewers accustomed to clicking within the video right away.
For audio, you have a few options. One common route is to add voice-over to your video to guide viewers about the interactive elements. This can also work if your video has an on-screen host with dialogue. In either case, the language in the voice-over or dialogue should clue viewers into their interactive options and even prompt them to click when they're able. On the other hand, you can always skip the audio and include background music instead. After all, many mobile audiences interact with content with sound off. To combat that, make sure your content has subtitles and graphics that call out the main points to engage anyone watching without audio.
How to Create a Commerce Video
The WIREWAX Studio has an incredibly user-friendly commerce video interface. The following steps reflect our process for creating and distributing a commerce video. If you prefer a video explanation, check out the walkthrough below.
Step 1: Upload your video
This will always be the first step in the commerce video process, because to add interactive elements to your video, you have to have a video in the first place! Once you've uploaded your video, move on to step two.
Step 2: Add your hotspots
Hotspots open up a world of interactivity for your viewer. They are the clickable element that viewers can engage with to learn more, shop or take any action. Make sure your products are on-screen at least 3 seconds to provide enough time for the viewer to engage with the hotspot . Keep this in mind if you're in the planning stages of filming your interactive video; or, if you're looking for existing content to make purchasable, choose clips without too many fast cuts.
Step 3: Create your overlay
Treat your video as if it's the first and only introduction to your product – which it very well may be. Include the important product details you normally would like price, description and a thorough photo gallery, to make product discoverability front and center. To create a photo gallery, simply upload more than one image at once to the Overlay editor.
Step 4: Promote and distribute
So next now that you've spent time perfecting the interactivity in your video, you need to think about the best way to present this to your audience so they'll be the most likely to engage and convert. Distribution is key in getting your video in front of the right audiences at the right time, in the right places. Promotion of the interactive experience is key and you can leverage this as an innovative new way to shop and learn about products that your viewers have never experienced before from your brand.
Every brand has a unique way of promoting and distributing their brand and content. At WIREWAX, we believe that you can keep those same practices you're already using to grow your audience and simply translate that to commerce video. We see brands using commerce video being used in three main ways: on a landing page or site, on social media, and on eCommerce.
Landing Page or Site
Some brands choose to incorporate their video onto their proprietary site or landing page.You'll have the most control when embedding on your own properties in terms of the way your audience sees and views the experience. We recommend having the interactive video sit high up on a page and as big as possible, so it's both eye catching and it looks good on all screen sizes. Embedding onto your site also allows your commerce video to blend seamlessly with your other content, and your most engaged and loyal audience is likely your site audience so they'll be giving you the best engagement rates.
Social Media
You can also leverage your social media following to promote and direct viewers to your purchasable experience. One of the best ways to do that is through vertical video. From a Facebook or Instagram ad, post or story, a link or a swipe-up can direct viewers to your vertical commerce video inside the Facebook or IG app. Creating a vertical video ensures that any clickable element is the optimal size and is easy to see and interact with on a small screen. Mobile first video ensures that mobile shoppers, who represent a high percentage of online shoppers, have just as good experience on their phone as they do with video on desktop.
eCommerce
Probably the most direct and effective viewer to conversion funnel comes when you integrate your commerce video directly into your eCommerce platform, whether that's Shopify or a proprietary eCommerce platform. When integrating commerce video into your eCommerce platform, you can directly add a product to the cart on the retailers page from the hotspots and overlays in the commerce video, as shown in the example above. From there you can immediately complete the checkout process. This brings commerce video as close as you can get to another funnel of direct conversions from anywhere on your website that you choose to place video. This is all accomplished through our player API, meaning it is compatible with any eCommerce set up.
That's it! Once these four steps are complete, your commerce video will be out in the wild, ready to increase your conversions and audience engagement. We can't wait to see what commerce video can do for you!
Ready to take the next step with your eCommerce strategy? Talk to a member of our commerce video team to get started.
-WIREWAX Customer Success team
TAGS:
digital retail
ecommerce
interactive
interactive video
SHARE: