What Is An Interactive Video Hotspot?
WIREWAX
June 15th, 2021
First of all – What is a hotspot?
A hotspot is the area of the interactive video that acts as a 'hitbox' – clicking on the hotspot will lead to the content or action of your choice. There are two types of video hotspots; sticky and static. Static video hotspots are anchored to a fixed position in the video frame and don't move. You decide when you want them to appear. Static hotspots can last as long as you want onscreen and you can specify their duration using in and out points. Check out this example of static hotspots. Sticky video hotspots stick to people or objects as they move. Typically you'll see 9x higher viewer activity compared to static hotspots. Sticky hotspots are great for attaching a clickable point to people or objects. Here's a great example.
Hotspots are the focal point of your interactive video – Now let's make them stand out.
Hotspots are the action drivers throughout your content so it's important that they stand out to the viewer while maintaining your overall branding and design. You don't need to be a large team with expensive resources to create a premium experience with WIREWAX Studio. Our self-serve toolset means you have the power to leverage the creative tools you know and love to craft custom hotspot designs and upload them directly to your project.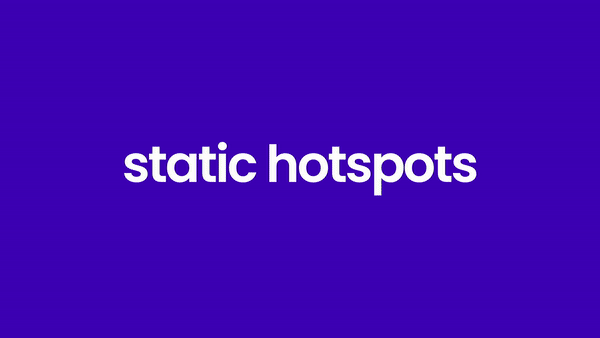 For our creative team, custom hotspots are typically created in Illustrator, Photoshop, or Sketch. While you can upload a variety of file types, we leverage SVGs for even scale across screen sizes. If you're in a crunch or feeling a little short on inspiration, our creative team has developed a few versatile downloadable templates for you to take advantage of when building your next creative experience. You can access those here. You can also peruse our library of designs in Studio to find one that makes your video pop.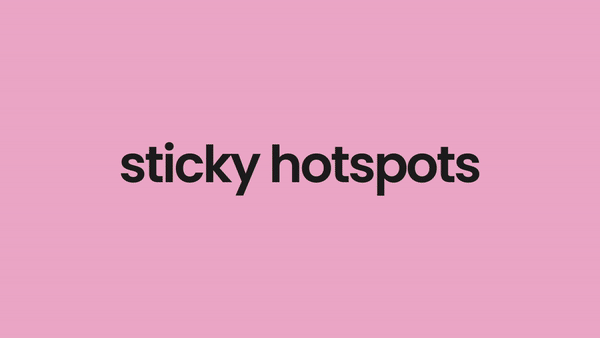 I've created my hotspots – What can I do with them?
Hotspots can have one of four actions; open overlay, go to link, jump to point in video, and do nothing. You can get creative with an Overlay – whether you're showcasing a product, providing additional information on a topic, displaying another video – the possibilities are endless. Check out some interactive video examples of what you can achieve with a blank overlay canvas. Let your imagination run wild! You can also choose to have the hotspot click out directly to any URL, bypassing any overlay. Our research suggests that using overlays is a far better way of retaining viewers in a multi-hotspot environment. Try engaging the viewer with an overlay before directing them to an external website!
TAGS:
hotspots
interactive
interactive video
video hotspots
SHARE: