WPP-Owned Group SJR Lock-In Interactive Video With WIREWAX For Long-term Growth
WIREWAX
November 19th, 2019
Modern marketing agencies are continuously looking for new, innovative ways of aiding their brand clients in viewing core customer communications as a conversation, not just a one-way funnel of information.
For NYC-based, WPP-owned marketing agency, Group SJR, interactive video has become a standard part of developing and expanding client strategy.
Since 2018, WIREWAX Enterprise customer Group SJR has harnessed the power of WIREWAX Studio to innovate on new ways to drive measurable results from their clients' content, both new and existing. With access to WIREWAX Studio, the client team at GroupSJR is able to bring suggestions of new digital revenue streams to the table and execute videos and mockups all from the WIREWAX platform.
Says Megan Grapengeter-Rudnick, Associate at Group SJR:"WIREWAX has allowed us to bring fresh ideas to the table with our clients in new and exciting ways."
Spanning diversity across shoppable to corporate marketing; read on to discover two fundamental ways Group SJR redefines digital strategy and boosts their clients' returns on video in a big way.
Reebok wins big with shoppable blog series
Spearheading the wave of shoppable video, Group SJR client Reebok wasted no time incorporating interactive video throughout their site content. In 2018, Reebok created 20 shoppable videos to accompany a series of blog posts highlighting up and coming artists, athletes and influencers, sharing their signature Reebok street style.
From Shaq to Rae Sremmurd, Reebok combines visual lookbooks with on-camera interviews that give the audience ample chance to interact with the clothes and shoes their favorite celebs are wearing on-screen.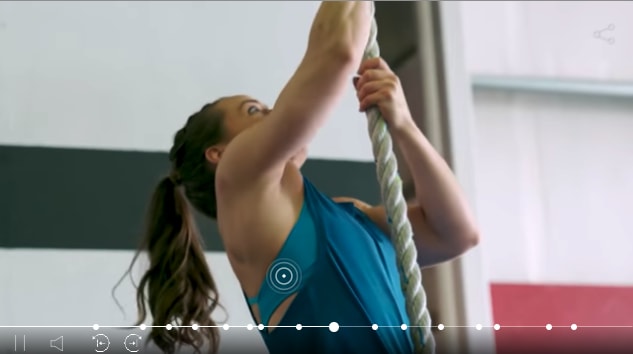 White animated pulsing hotspots catch the viewer's eye, enticing them to click on each product available within the video while remaining a subtle design to blend in with any video edit.
With this series, Reebok proved that interactive success is repeatable and can be applied at scale in any format. By implementing interactive over an entire series of content, not only did they reap the benefits through each video they created, but their active audience came to be familiar with and expect that lean-in experience from Reebok blog content.
On average, 10% of Reebok's audience interacted with shoppable hotspots and visited product pages directly from the video – blowing past the industry average of 1.53% (Google benchmarks).
Group SJR is paving the way for agencies opening up the world of interactive video to their client base.
Are you an agency interested in leveraging interactive technology to allow your clients to reach new audiences and engage potential customers? Click here to take the first step.
Written by Marissa Ke, Customer Success Director
TAGS:
Group SJR
interactive video
WIREWAX Studio
SHARE: